August 7th is for recognizing your friends
A friend is one of the nicest things you can have, and one of the best things you can be. When we honestly ask ourselves which person in our lives mean the most to us, we often find that it is those who, instead of giving advice, solutions, or cures, have chosen rather to share our pain and touch our wounds with a warm and tender hand. The friend who can be silent with us in a moment of despair or confusion, who can stay with us in an hour of grief and bereavement, who can tolerate not knowing, not curing, not healing and face with us the reality of our powerlessness, that is a friend who cares.
Send flowers this Friendship Day, Sunday, August 7th! Across the street or across the country, a local florist can send a gift of Friendship to your Special Friend! Send gift baskets, gourmet chocolates. Your firneds may not expect gifts, but sending presents to a sincere friend makes their day meaningful. Without waiting for Friendship day, you can send them holiday flowers, flower vases and keep your friendship real.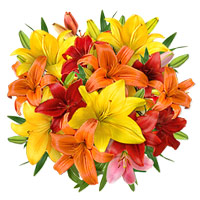 Mixed Asiatic Lilies
Consider sending a friend a beautiful vase of her (or his) favorite flowers to celebrate National Friendship Day! Here are some gift ideas to inspire you:
For the Gardener: Send a watering can filled with wildflowers and a raffia bow. Green Thumbs would also appreciate a Green or Blooming Plant in a decorative basket or container.
For the Modern Friend: Send a contemporary gift! A sleek vase or container filled with tropical flowers and exotic grasses. Unique Flowers for a one-of-a-kind friend!
For the Old Fashioned Friend: Consider sending a Country Style Basket filled with classics such as; Snapdragons, Daisies, Delphinium and Roses.
Get what you really wanted for the holidays!
For the Host/Hostess: A traditional table centerpiece with colorful summer blooms can compliment your friend's dinner table.
You may even consider sending a gift basket full of goodies-Gourmet Chocolates, Fruit, Cookies, Teas, Candles, etc.
Balloons and Plush Animals can add a special touch to Flower Arrangements, Plants and Gift Baskets. What a perfect way to say "I celebrate our Friendship today!"
Remember, to get the best value, call a local florist in your friend's town directly. You can avoid the processing charges and substitutions often associated with indirect orders. Happy Friendship Day!
The most beautiful discovery true friends make is that they can grow separately without growing apart.